Revelations, Like in the Movies
On the journey from Aberdeen to Glasgow this afternoon, we of the Blood Arm posse held a screening of the excellent Robert Rodriguez film
From Dusk Till Dawn
. In addition to teaching us that teenagers grow up
a lot
faster when abducted by murderers and forced into Mexican drinking establishments filled with blood-thirsty vampires (which, coincidentally, is how the Blood Arm came to be), the film also cast a keen light on George Clooney. To be precise: He talks
exactly
like Keith Murray, lead vocalist and guitar-man of We Are Scientists. And they look somewhat similar to boot.
Observe. Here's George: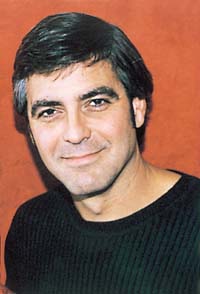 Now here's Keith:
It's uncanny, really.
Also Uncanny, the fun we had in Leeds, Newcastle, and Aberdeen. Some Highlights:
-The University Refectory, where our show took place, hosted some other legendary performances as well.
-We managed to get our dear friend Robert Willey kissed by a real-live
girl
.
-Dyan found me the best scarf ever on the ground in Newcastle. (Not the best ever: the neck lice that hitched a ride on the scarf.)
-The Aberdeen Music Hall is so beautiful we cried.
That's all for now.
I love you,

Ben Lee Handler
Labels: Aberdeen, Au Revoir Simone, George Clooney, Leeds, Newcastle, We Are Scientists, Willey